Informe Becados Manzanillo Del Mar
×
Error message
Deprecated function: The each() function is deprecated. This message will be suppressed on further calls in menu_set_active_trail() (line 2394 of /home/cojowae/public_html/includes/menu.inc).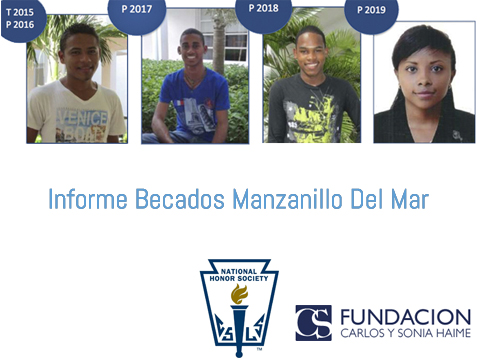 Written by
Sandy
07 Oct
Category:
¡Becados de la Sociedad de Honor, Carlos y Sonia Haima y Marlene Finvarv!
Apreciada Comunidad COJOWA,
Todos los años la Sociedad de Honor (NHS) los invita a participar de diferentes actividades para apoyar sus proyectos; uno de ellos es la beca al mejor estudiante de grado 11 del colegio de Manzanillo Del Mar.  Hoy queremos compartir con ustedes en qué consiste la beca y los resultados (a la fecha) de este proyecto, ¿qué han estudiado? y ¿qué otros proyectos han realizado los estudiantes que han resultados favorecidos de esta?. Los resultados son muy positivos; y es por esto que los invitamos a PRESIONAR AQUÍ para leer el Informe de becas Carlos y Sonia Haime, Marlene Finvarv patrocinadas por COJOWA.
¡COJOWA, gracias por apoyar nuestros proyectos!
Sociedad de Honor COJOWA
---
Scholarships from the National Honor Society, Carlos y Sonia Haime and Marlene Finarv
Dear COJOWA Community,
Every year the National Honor Soceity invites COJOWA to help them support their projects and activities; one of these projects is the scholarship for the best student at the Manzanillo Del Mar school to fund his/her studies. Today we wish to share with you what the scholarship covers, which careers the students have chosen to study, and other projects they have been involved with. The results are very positive, that's why we invite you to PRESS HERE to find read the complete report of the Carlos y Sonia Haime and Marlene Finvarv Scholarships sponsored by COJOWA.
COJOWA National Honor Society