School Profile
Colegio Jorge Washington is a private, non-profit, non-denominational, co-educational, N-12 international school offering USA and Colombian diplomas, accredited by Cognia (previously known as AdvancED) and the Colombian Ministry of Education.
Organization
The School is governed by a 9-member Board of Directors elected to 3-year terms by the Colegio Jorge Washington Parents Association, which sponsors the School.  Membership in the Association is automatically conferred on the parents or guardians of children enrolled in the School.
Curriculum
The curriculum is that of a U.S. college-preparatory school.  Instruction is in English and Spanish. A dual program prepares students for both the U.S. high school diploma and the Colombian Bachillerato degree.  The School is accredited by Cognia, and by the Colombian Ministry of Education. Graduation rate is 100% and students go on to colleges and universities in the United States, Colombia, and Europe.
Facilities
The main campus is located on the outskirts of the city with 3 independent, self-contained wings for Elementary, Middle School and High School.  Within these 3 wings, we find 3 science laboratories, two music room, a central 2-story library, 2 AV rooms, 3 computer labs, and 2 learning centers for children with diagnosed learning disabilities. Sports facilities include 4 outdoor multi-use courts, 2 full-sized soccer fields, 1 softball diamond, and an air-conditioned coliseum that serves both our sports and fine arts programs. Our modern preschool facility for 18 months to 5 year olds, it is located in the city within close proximity to residential neighborhoods.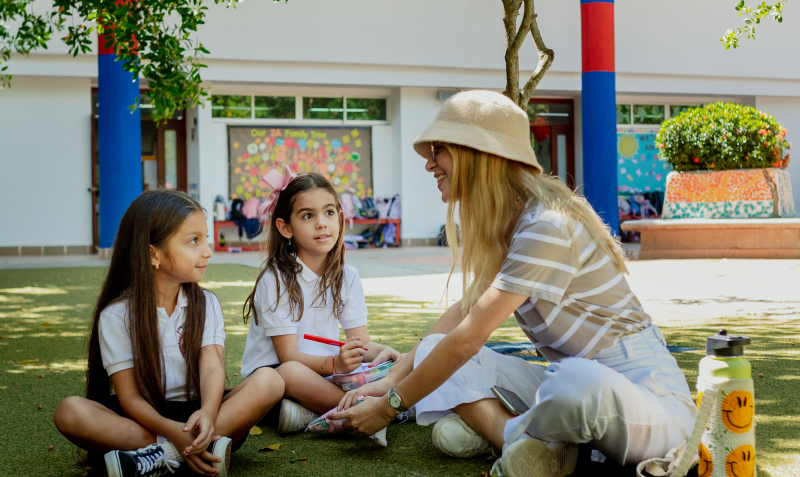 Mission
We are a collaborative bilingual community that shares a dedication to continuous learning within a culture of trust and mutual respect.
Vision
Learning together as reflective citizens and innovative thinkers to build a better tomorrow.